2020 Zero Motorcycles SR/F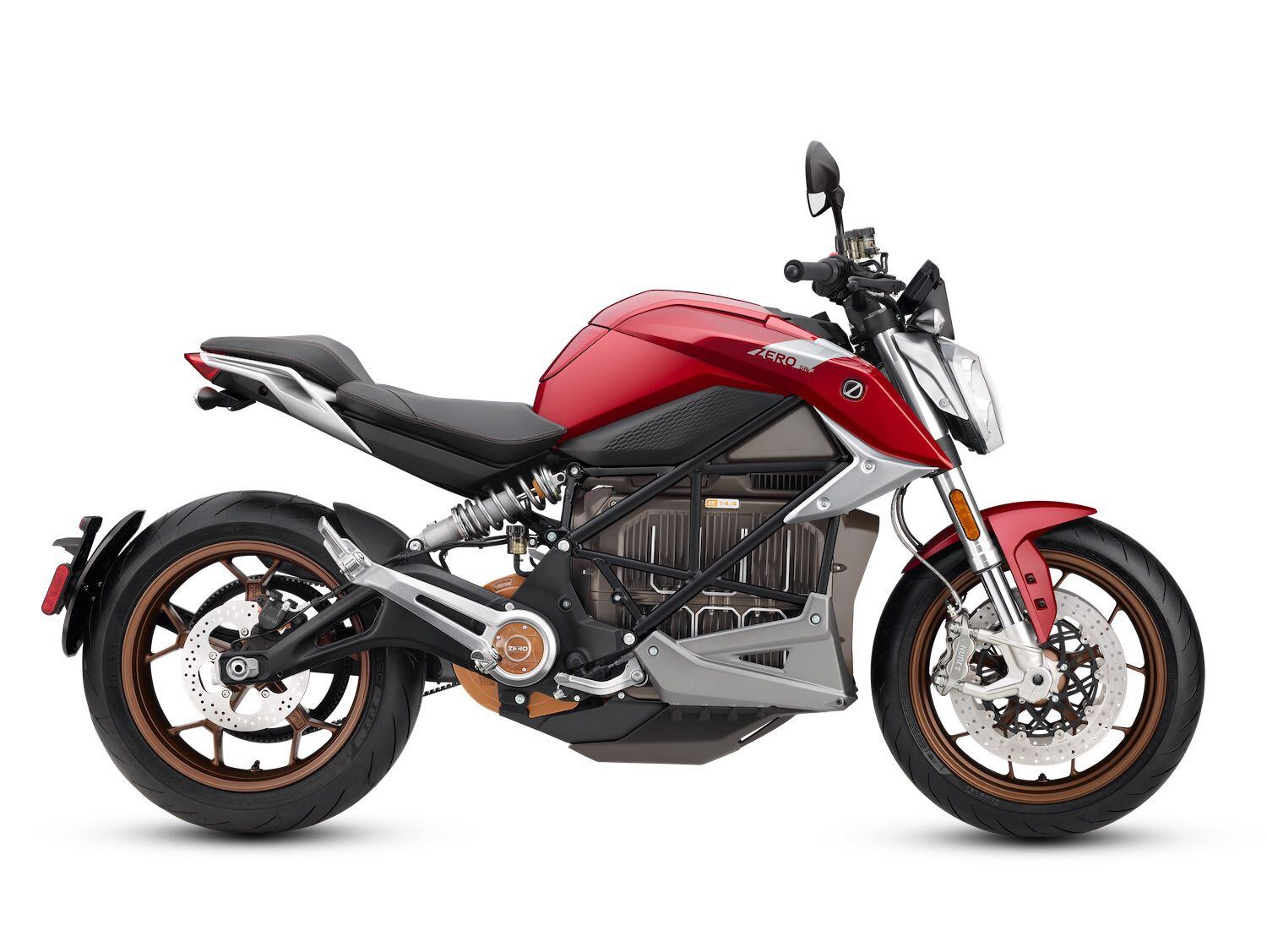 2020 Zero Motorcycles SR/F (Zero Motorcycles/)
Among EV motorcycles, the 2020 Zero SR/F sits front and center at the head of the class. Developed as Zero's "halo" model, the SR/F is a finely crafted, traditionally styled streetbike intended to close the performance gap to internal-combustion motorcycles, and it does just that. In fact, this American-made machine produced 146.5 pound-feet of torque and 100 hp at its rear wheel on the Cycle World dyno. Zero also offers a SR/F Premium model, which comes with a 6kW rapid charger that cuts "fill-up" time by half at a Level 2 station, plus a fly screen, heated handgrips, and aluminum bar ends.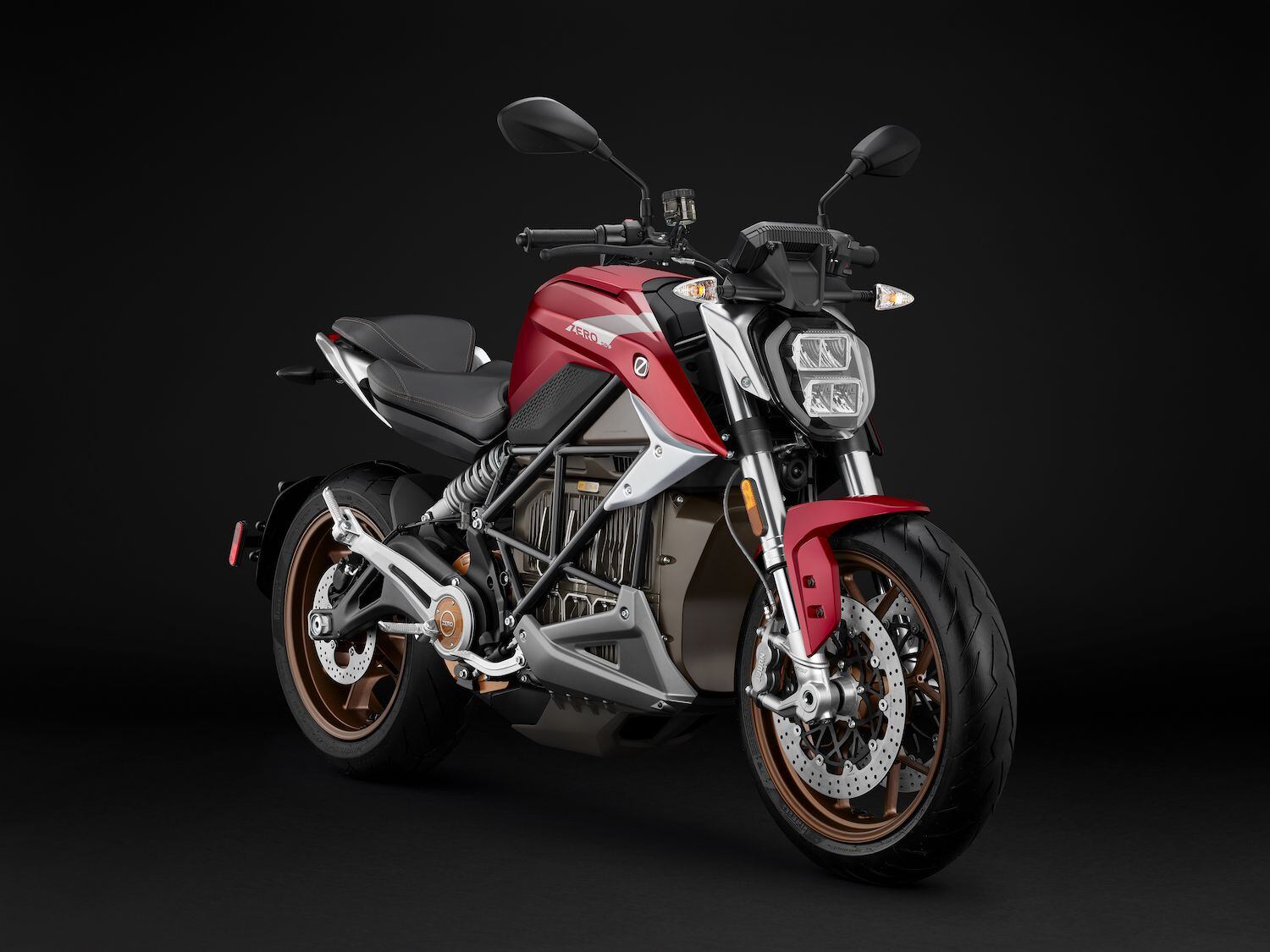 2020 Zero Motorcycles SR/F (Zero Motorcycles/)
After testing the Zero Motorcycle SR/F Premium, Road Test Editor Michael Gilbert noted, "The lack of clutch and gearbox paired with medium-distance range makes this electric bike seriously useful as around-town transportation with the capability of tackling a few miles of twisties in between while retaining a natural motorcycle riding experience." This blend of outright performance and utilitarian features makes for an entertaining yet purposeful riding experience, and charging comes easily in any location welcoming to EV vehicles, likely including your own home.
2020 Zero Motorcycles SR/F Reviews, Comparisons, And Competition
2020 Zero SR/F Electric Motorcycle First Ride
2020 Zero Motorcycles SR/F Review
2020 Harley-Davidson LiveWire First Ride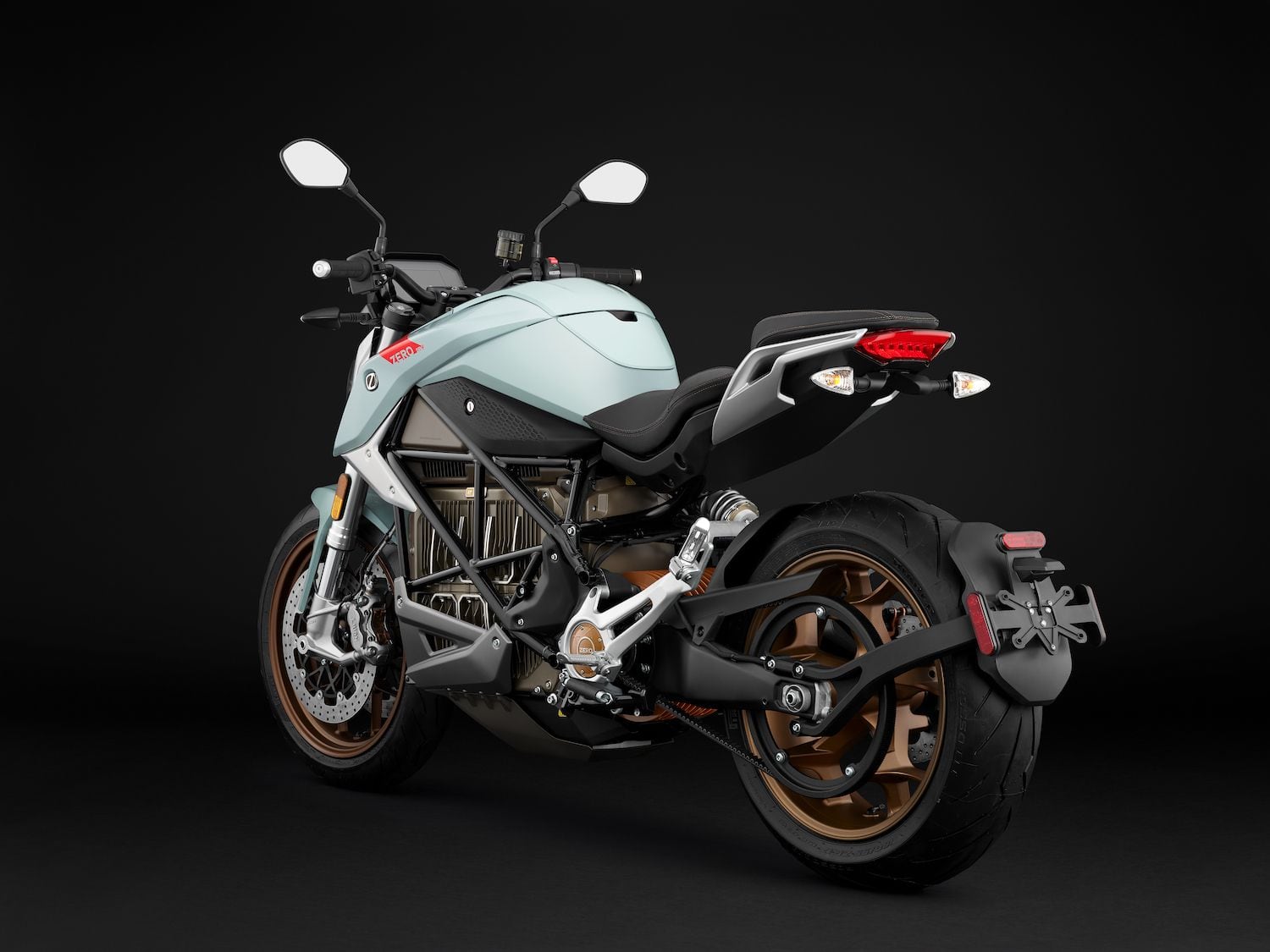 2020 Zero Motorcycles SR/F (Zero Motorcycles/)
Manufacturer Claimed Specifications
.tg border-collapse:collapse;border-spacing:0;
.tg tdfont-family:Arial, sans-serif;font-size:14px;padding:10px 5px;border-style:solid;border-width:1px;overflow:hidden;word-break:normal;border-color:black;
.tg thfont-family:Arial, sans-serif;font-size:14px;font-weight:normal;padding:10px 5px;border-style:solid;border-width:1px;overflow:hidden;word-break:normal;border-color:black;
.tg .tg-0laxtext-align:left;vertical-align:top
| Price | $19,495/$21,495 |
| --- | --- |
| Motor | Air-cooled electric |
| Horsepower | 110 hp @ 5,000 rpm |
| Torque | 140 lb.-ft. |
| Transmission | 1-speed |
| Final Drive | Belt |
| Seat Height | 31.0 in. |
| Rake | 24.5° |
| Trail | 3.7 in. |
| Front Suspension | 43mm fully adjustable; 4.7-in. travel |
| Rear Suspension | Fully adjustable; 5.5-in. travel |
| Front Tire | 120/70-17 |
| Rear Tire | 180/55-17 |
| Wheelbase | 57.1 in. |
| Battery | 14.4 kWh |
| Claimed Wet Weight | 485/498 lb. |
Cycle World Tested Specifications (Premium model)
.tg border-collapse:collapse;border-spacing:0;
.tg tdfont-family:Arial, sans-serif;font-size:14px;padding:10px 5px;border-style:solid;border-width:1px;overflow:hidden;word-break:normal;border-color:black;
.tg thfont-family:Arial, sans-serif;font-size:14px;font-weight:normal;padding:10px 5px;border-style:solid;border-width:1px;overflow:hidden;word-break:normal;border-color:black;
.tg .tg-0laxtext-align:left;vertical-align:top
| Seat Height | 31.3 in. |
| --- | --- |
| Dry Weight | 502 lb. |
| Rear-Wheel Horsepower | 100.2 hp @ 4,480 rpm |
| Rear-Wheel Torque | 146.5 lb.-ft. @ 1,218 rpm |
| 0–60 mph | 3.6 sec. |
| 1/4-mile | 11.83 @ 116.20 mph |
| Braking 30–0 mph | 33.6 ft. |
| Braking 60–0 mph | 131.9 ft. |