Motorcycle Lifts And Floor Jacks For Maintenance And Repair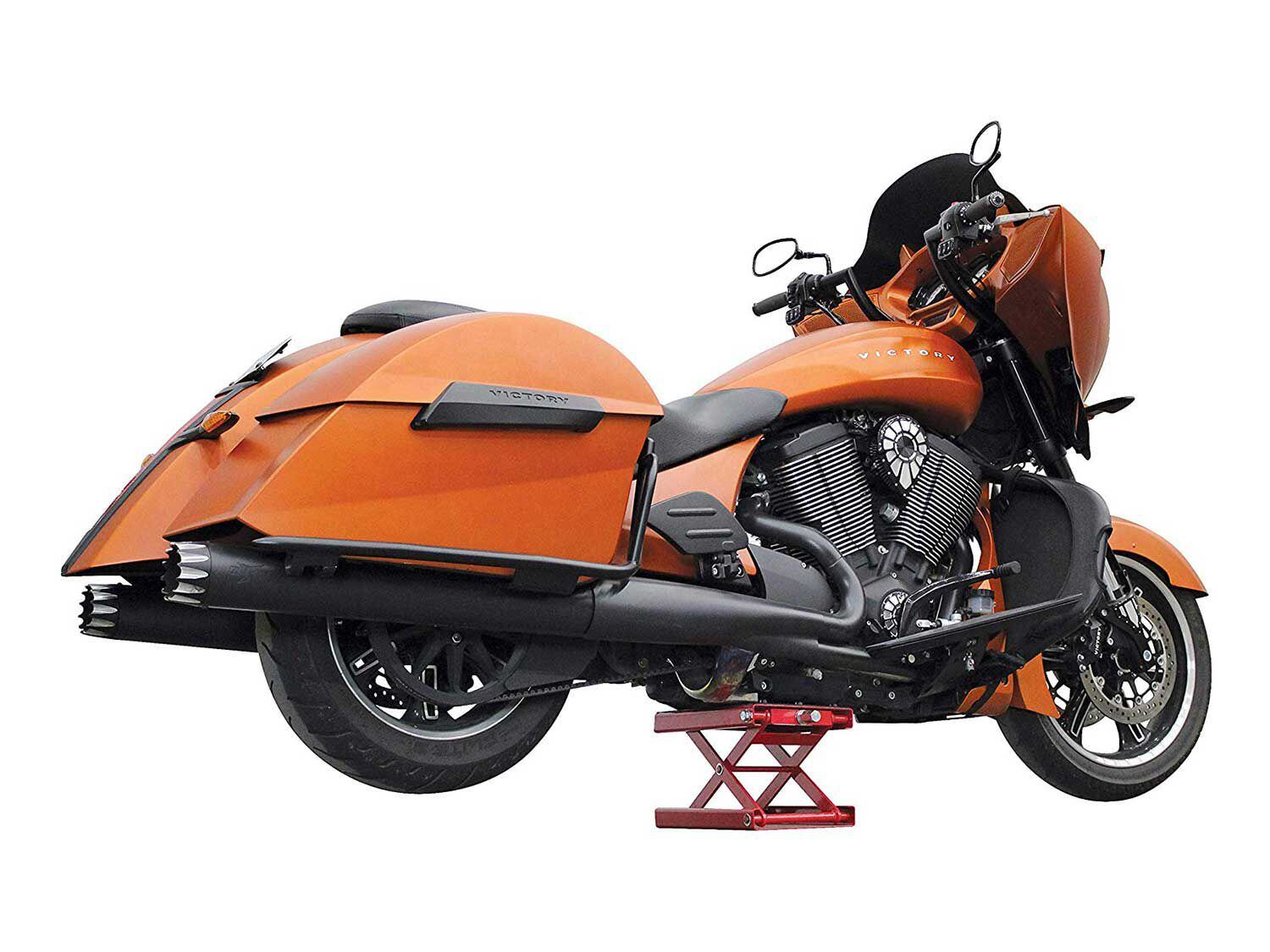 A well-designed, correctly sized motorcycle lift or jack can make any bike project a much easier proposition. (Amazon/)
You should know by now that working on your motorcycle requires a lot of specialized tools, and that's especially important to keep in mind when shopping for a lift or floor jack. With the wide variety of bike styles, sizes, and weights out there, make sure you choose the right lift to accommodate them. A stable and secure lift will give you better access to work on your bike without having to worry about it shifting or slipping. Getting a proper lift into your workspace can be a game changer when it comes to better (and more frequent) maintenance checks on your ride, and for making repairs or adding mods, it can be a lifesaver. So whether you're in the market for a compact lift or a heavy-duty floor jack to get your bike in the air, we've got options here to fit just about any motorcycle and budget.
Extreme Max Motorcycle Scissor Jack, Wide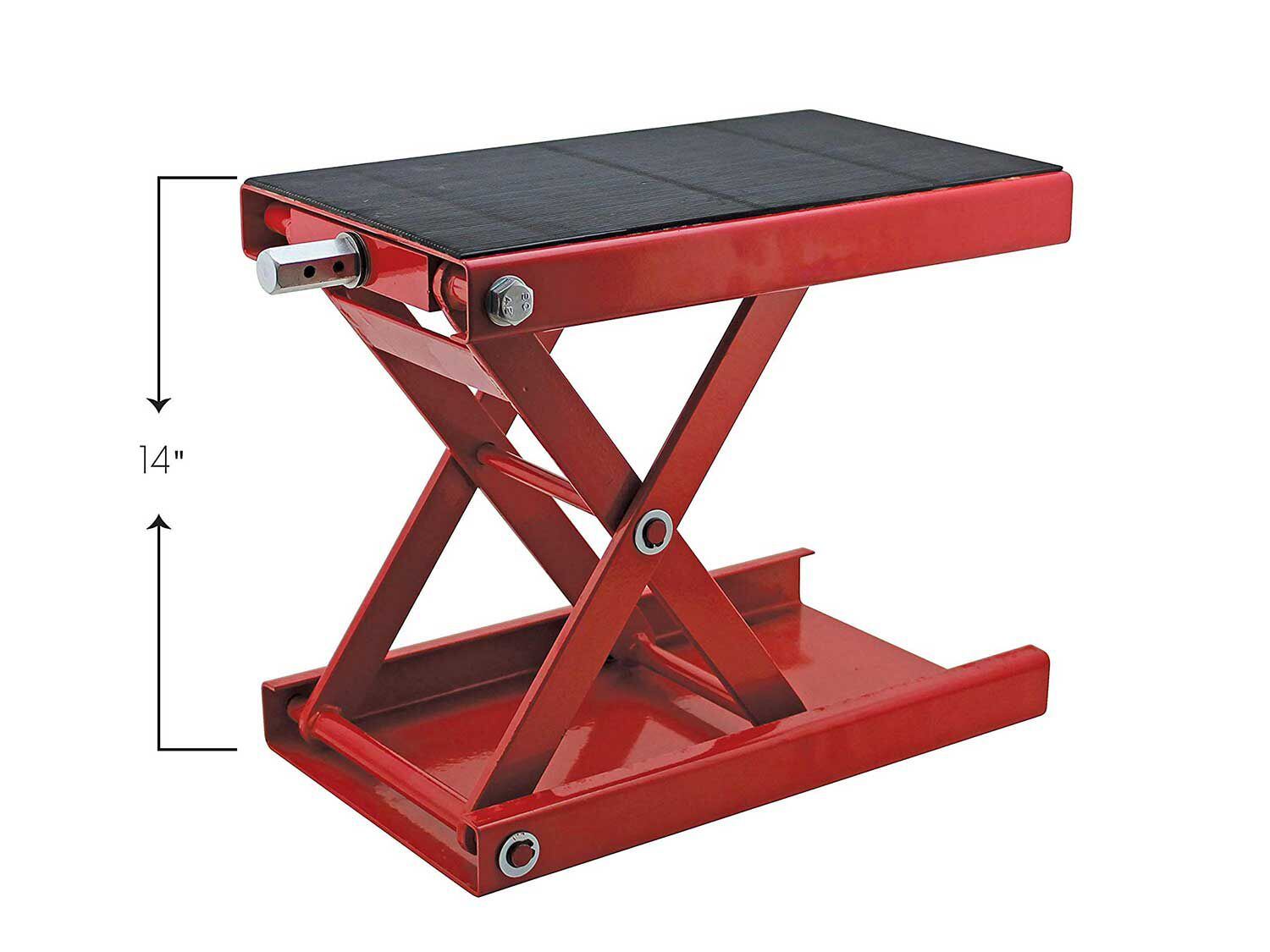 A solid steel option at a nice price with decent weight capacity. (Amazon/)
To get your bike off the ground quickly and safely, first look for a lift that can handle the size and weight of your ride. Extreme Max's wide scissor jack is ideal for any roadbike and touring/cruiser model up to 1,100 pounds. This is one of the strongest and most stable scissor-style lifts available thanks to its high-strength worm drive and heavy-duty steel construction. The lift sits very close to the ground, so it can fit underneath bikes that have a lower-than-average ride height.
Vivohome Steel Hydraulic Motorcycle Lift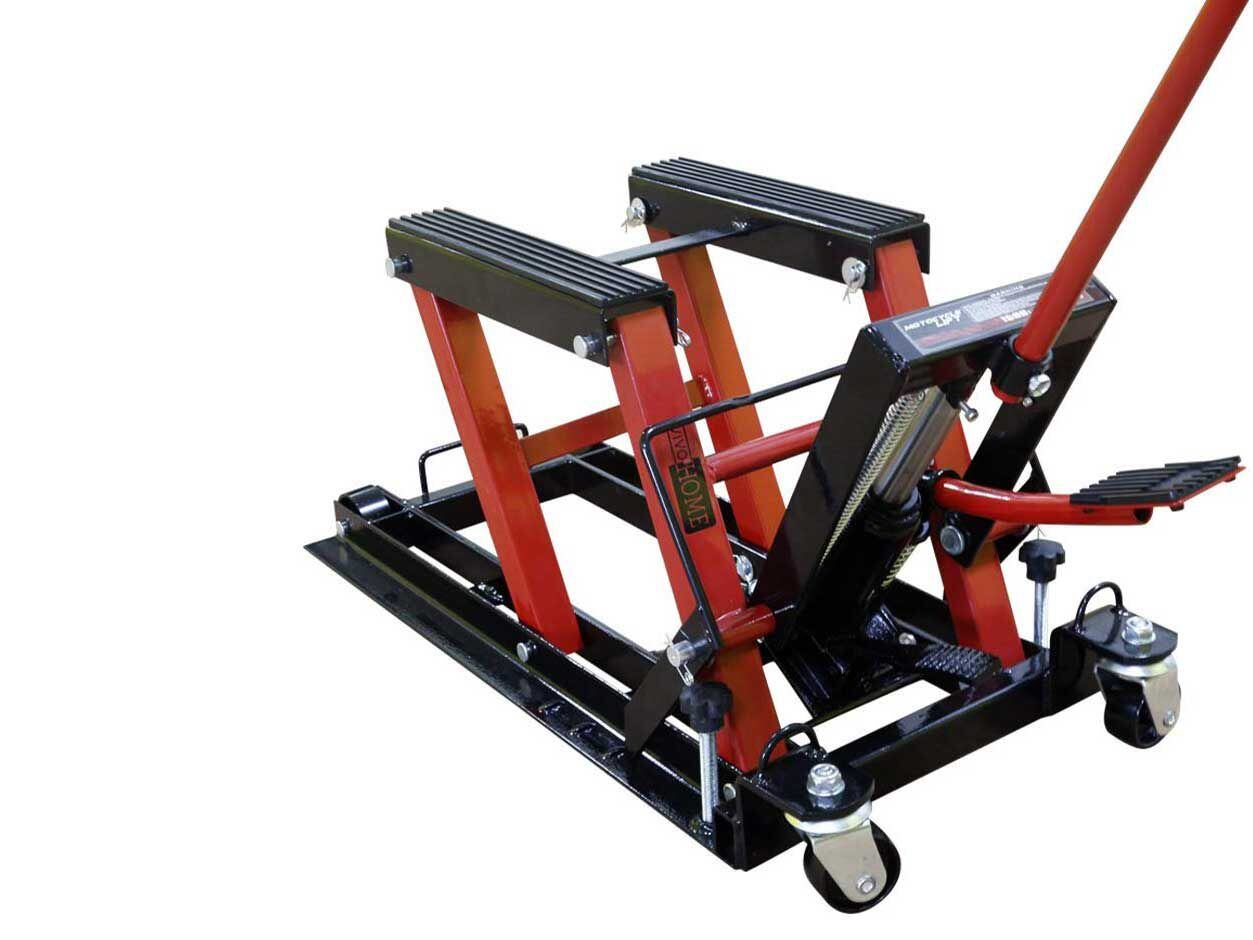 Easy operation with great load capacity, plus you can store it when you don't need it. (Amazon/)
Although it looks compact, this mighty mite from Vivohome has a load rating of up to 1,500 pounds, making it very functional. Lift your motorcycle with ease and peace of mind as the
jack can be operated manually by foot pedal or attached to a compressed airline and adjusted through a pneumatic lift cylinder; the durable steel frame and high-quality, nonslip rubber lift pads will hold your bike firmly in place once it's been jacked up. There's also a three-position safety lock mechanism built into the lift, giving you even less of a reason to worry about the unthinkable. An attached handle and swivel casters allow for easy transport so you can move it to store away when not in use.
Powerbuilt 620422E Heavy-Duty 4,000-Pound Triple Lift Jack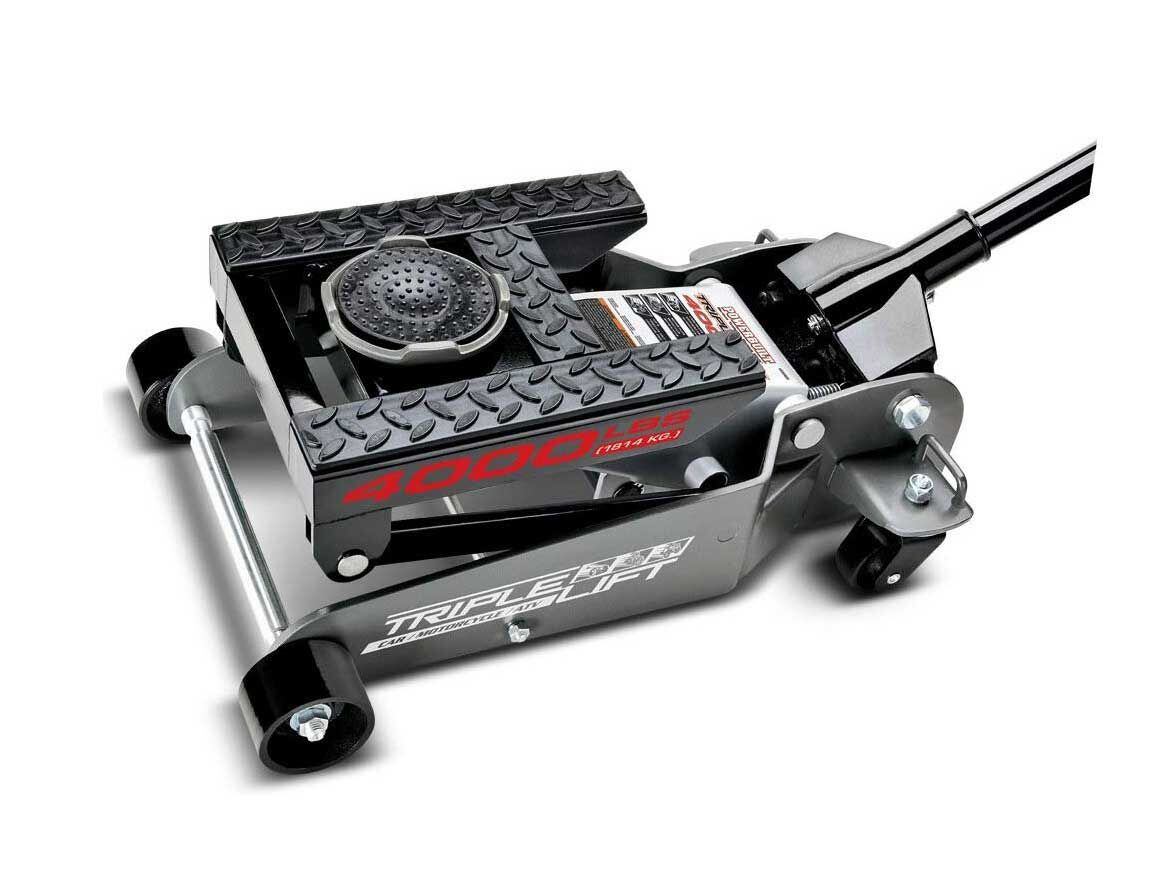 Monster capacity plus adaptable design means you can put almost any vehicle on it. (Amazon/)
For those who may be more comfortable with a traditional floor jack style lift, the Powerbuilt Triple Lift has an impressive capacity of 4,000 pounds! Its patented design features both a removable lift saddle and padded lift rails, and a simple locking safety bar holds the jack firmly in place once it's raised in order to avoid any mishaps that could arise. The flexible design of the Triple Lift means you can adapt it to multiple types of vehicle frames to use on your motorcycle as well as automobiles and ATVs. Streamline the amount of jacks and stands scattered around your garage, and go with this all-in-one wonder instead.
Apextreme 1,100-Pound Motorcycle Center Scissor Lift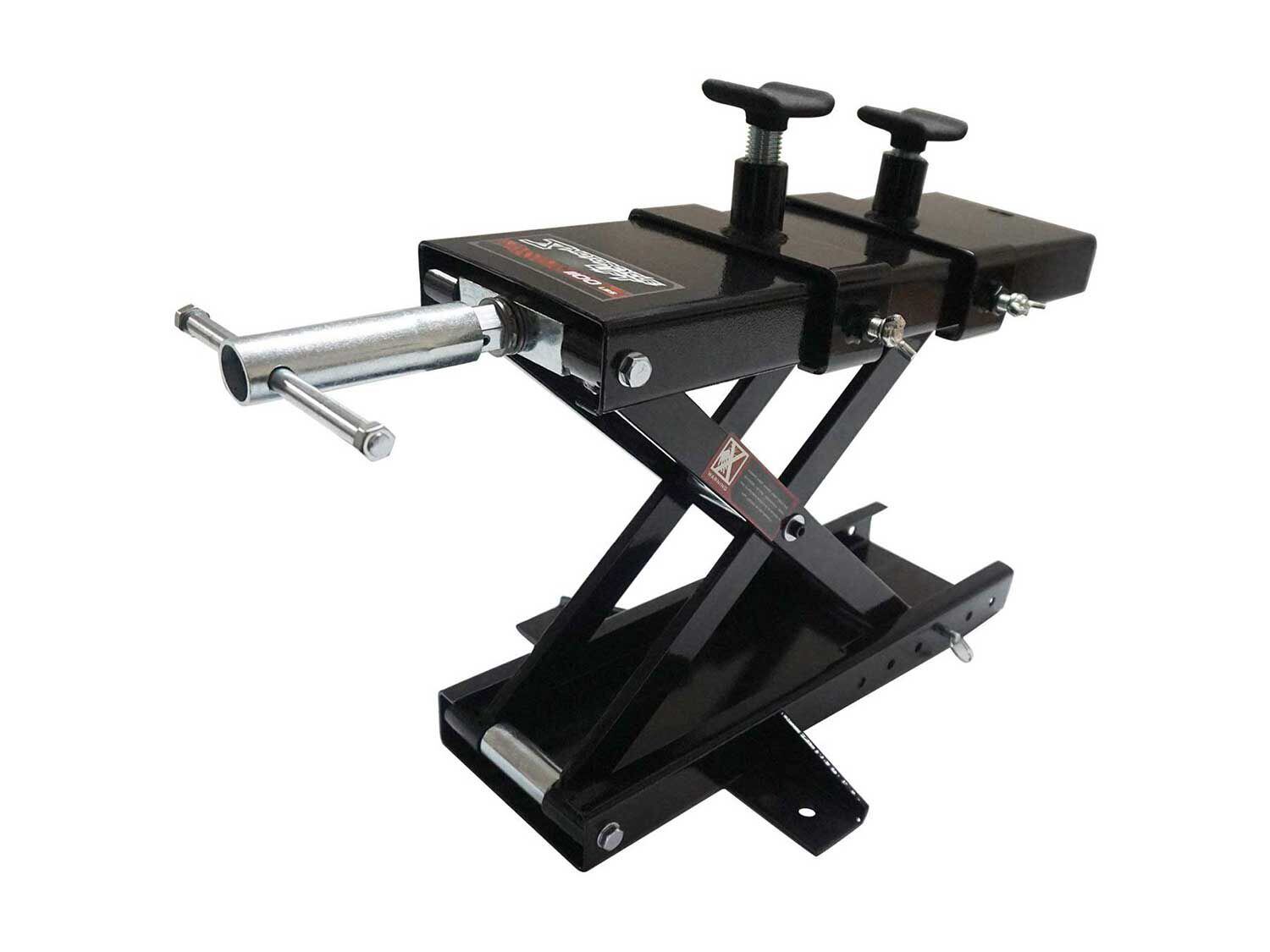 A compact design and a good weight rating means you can take it wherever you need it. (Amazon/)
The 1,100-pound capacity of this jack allows it to lift both compact and larger motorcycles alike. A 3-inch wing design on each side of the base strengthens and stabilizes the jack when in use, which really puts all worries to rest when it is at its fully extended height of 16.7 inches off the ground. Two removable screw adapters offer variable height adjustment, and a removable crank handle offers easy operation by simply rotating until the desired height is reached.
OTC 1545 Motorcycle Lift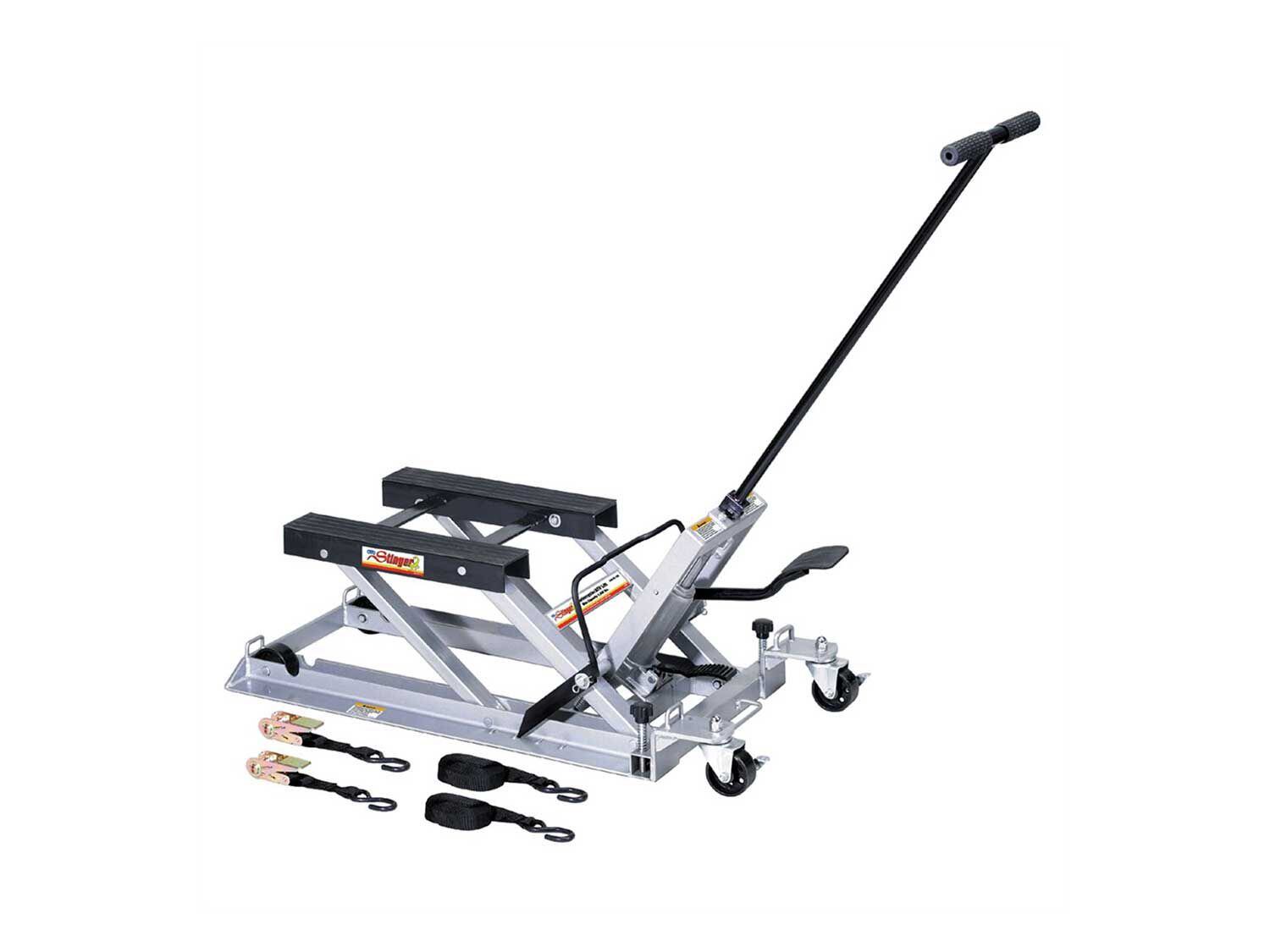 Easy operation plus long skids make it a great choice for bigger cruisers. (Amazon/)
If you ride a larger style bike like a cruiser or touring motorcycle, this may be the best bet when it comes to a motorcycle lift for your garage. To start, it features a 1,500-pound load capacity and 17-inch long skids that will fit the largest and widest bikes out there. Even if your bike sits on the lower end of the height spectrum, OTC's lift sits at just 3-1/2 inches high at its lowest level, and can lift your rig all the way up to 16-3/4 inches, which gives you lots of room to work with. The handle can be easily removed, so once your bike is in the air, you'll be able to take advantage of 360-degree access to your motorcycle. A foot pedal release, locking rear casters, an automatic safety lock, and two included ratcheting straps all work to provide a level of safety you'll feel comfortable with.