The 2020 Harley-Davidson GMC Is Here
Meet the 2020 Harley-Davidson GMC, the first-ever Harley-branded GMC vehicle. (Courtesy Harley-Davidson/)
Wait…not a Ford H-D truck? No, you're not seeing things. There was indeed yet another F-150 getting the orange and black treatment just last February when the 2019 Harley-Davidson Edition Ford F-150 rolled into dealerships. And this year, Tuscany Motor Co. (which also built the Fords) has collaborated with The Motor Company once again, but with a new marque. Have a look at the new 2020 Harley-Davidson GMC—the first GMC vehicle ever.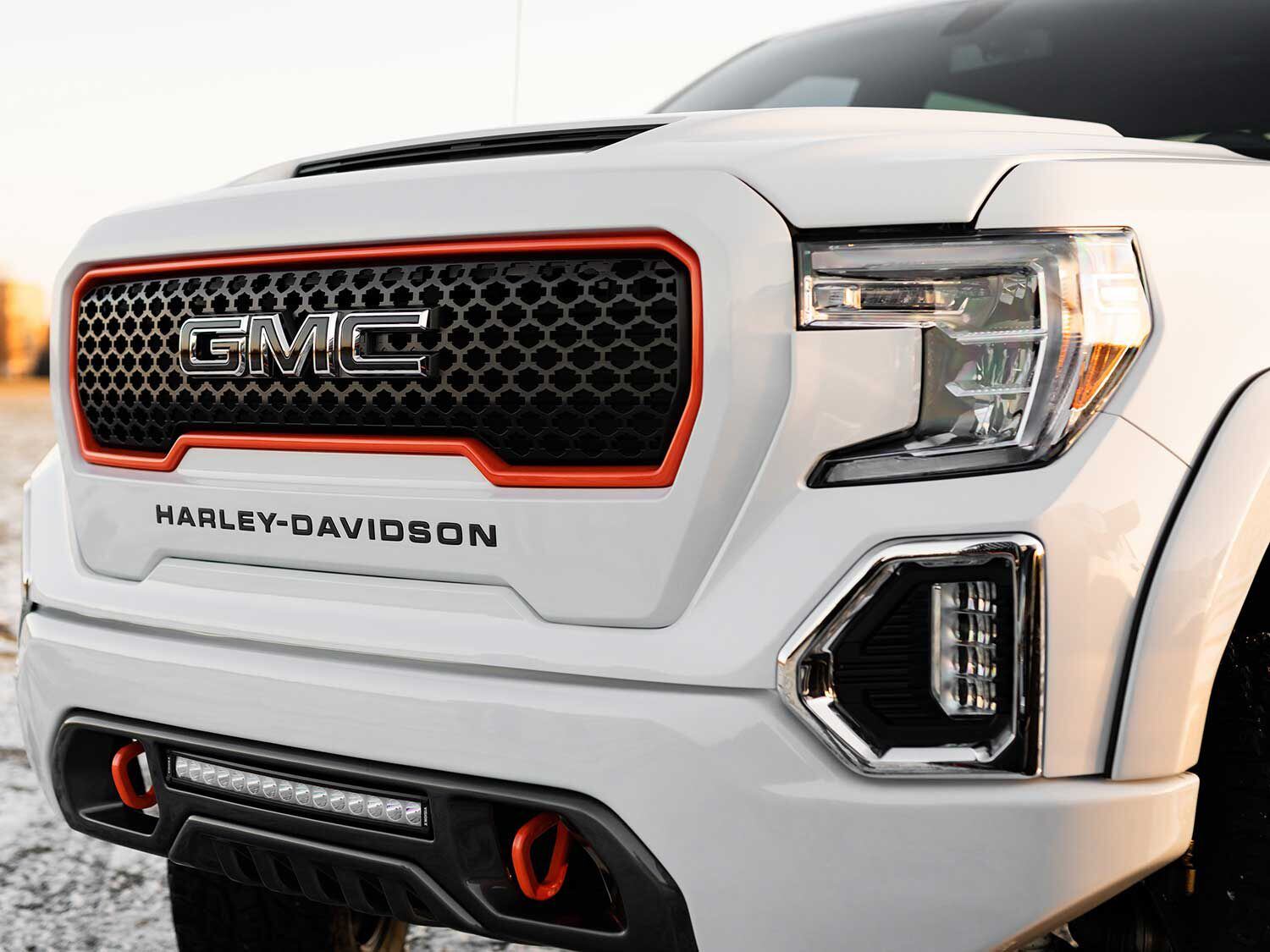 The custom Harley-Davidson grille gets bar-and-shield patterned mesh that's framed by an orange contour insert. A dark skid plate with orange tow hooks caps the look. (Courtesy Harley-Davidson/)
The styling on this Sierra is "inspired" by the Harley-Davidson Fat Boy, so in that sense it's similar to the 2019 Ford F-150, which also channeled that model (check out harleytruck.com/ to see them both side by side). The 65 "motorcycle-inspired components" include 22-inch milled aluminum wheels, a custom-tuned exhaust, and a bunch of Harley-Davidson bar-and-shield badges scattered around the exterior. There's bold H-D lettering under the grille and across the tailgate too, naturally.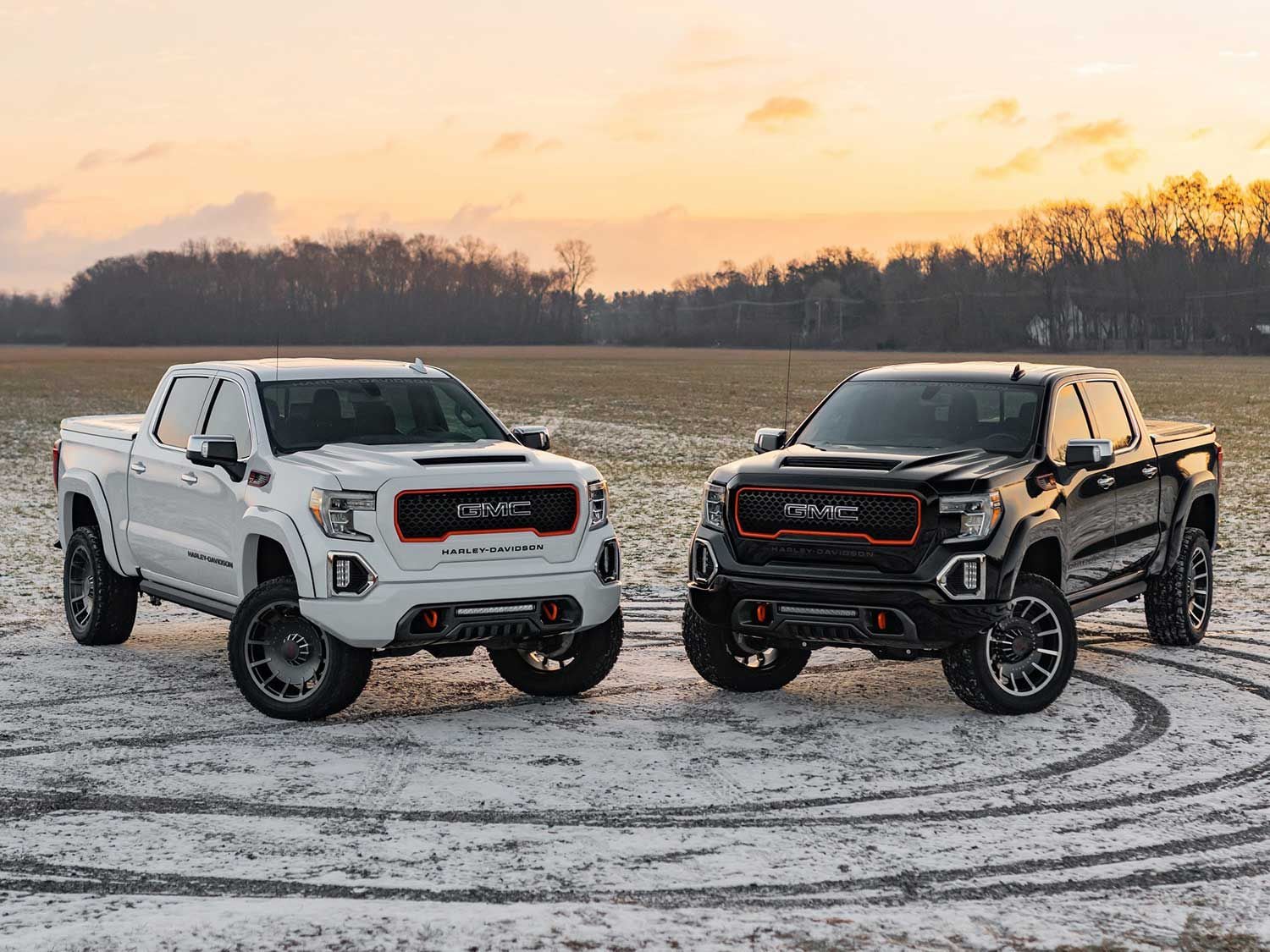 The Tuscany Motor Co.-built H-D Sierra will be limited to just 250 units, available in Onyx Black, Summit White, or Satin Steel Metallic. (Courtesy Harley-Davidson/)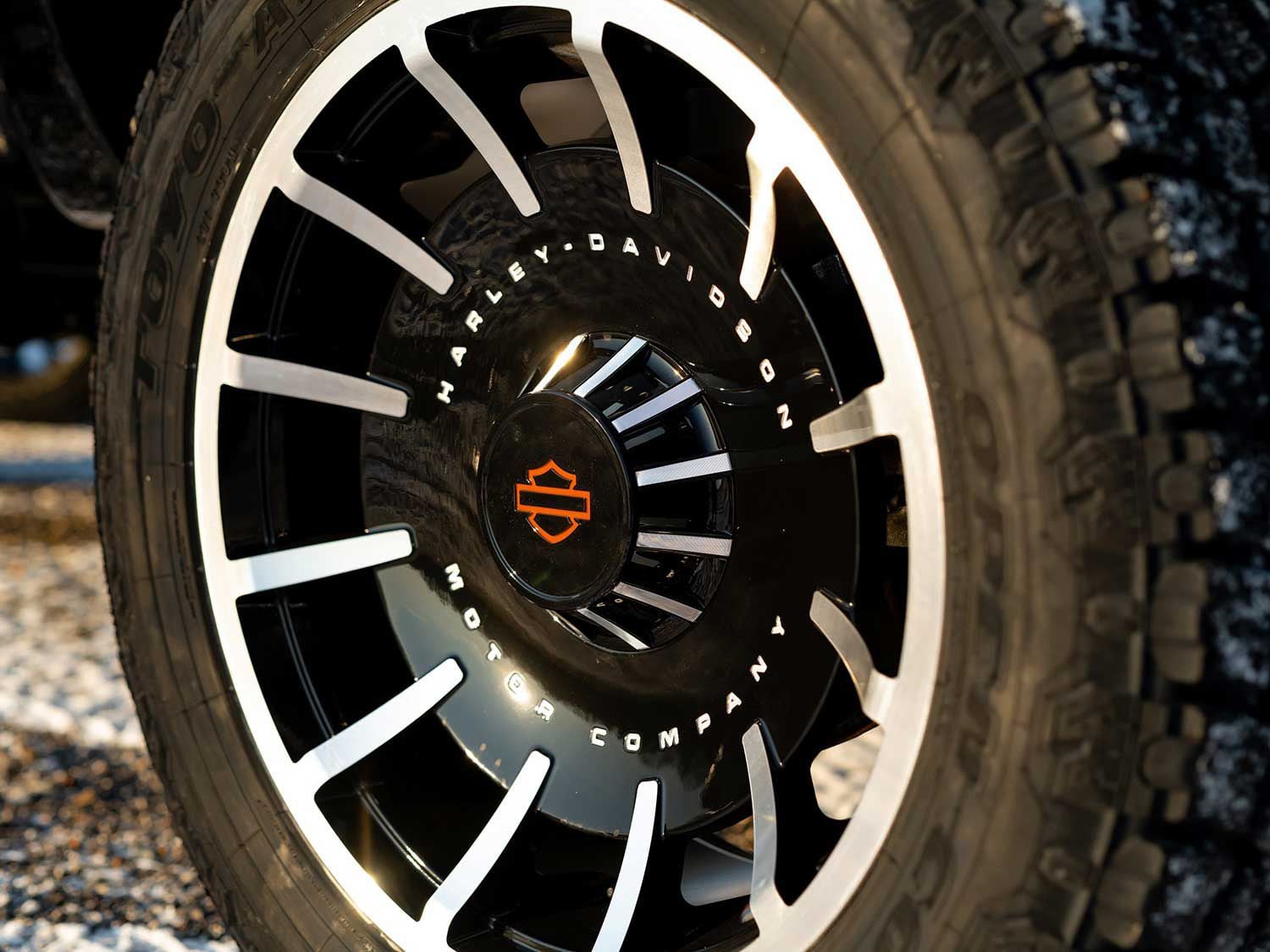 Do you see hints of Harley's Fat Boy on the 22-inch milled aluminum wheels? They get fitted with 35-inch all-terrain tires. (Courtesy Harley-Davidson/)
Inside is more of the same, with stainless steel gauges bearing the H-D logo, billet foot pedals, and two-tone diamond-stitched leather on much of the lush interior. The proof of limited-edition exclusivity? A numbered Harley-Davidson center console badge.
Other edition-specific components include a BDS suspension lift with upgraded Fox shocks, beefy 35-inch tires, custom fender flares, an induction-style hood, and a tonneau cover stamped with a huge bar-and-shield logo.
Only 250 of these Sierras will be available through select GMC/Tuscany dealers in North America. The 2020 Harley-Davidson GMC will retail at a suggested $94,995 when it hits select GMC dealers beginning February 2020. Visit harleytruck.com/GMC or call (817) 769-4720 for more info. For more on Tuscany, see tuscanyautomotive.com.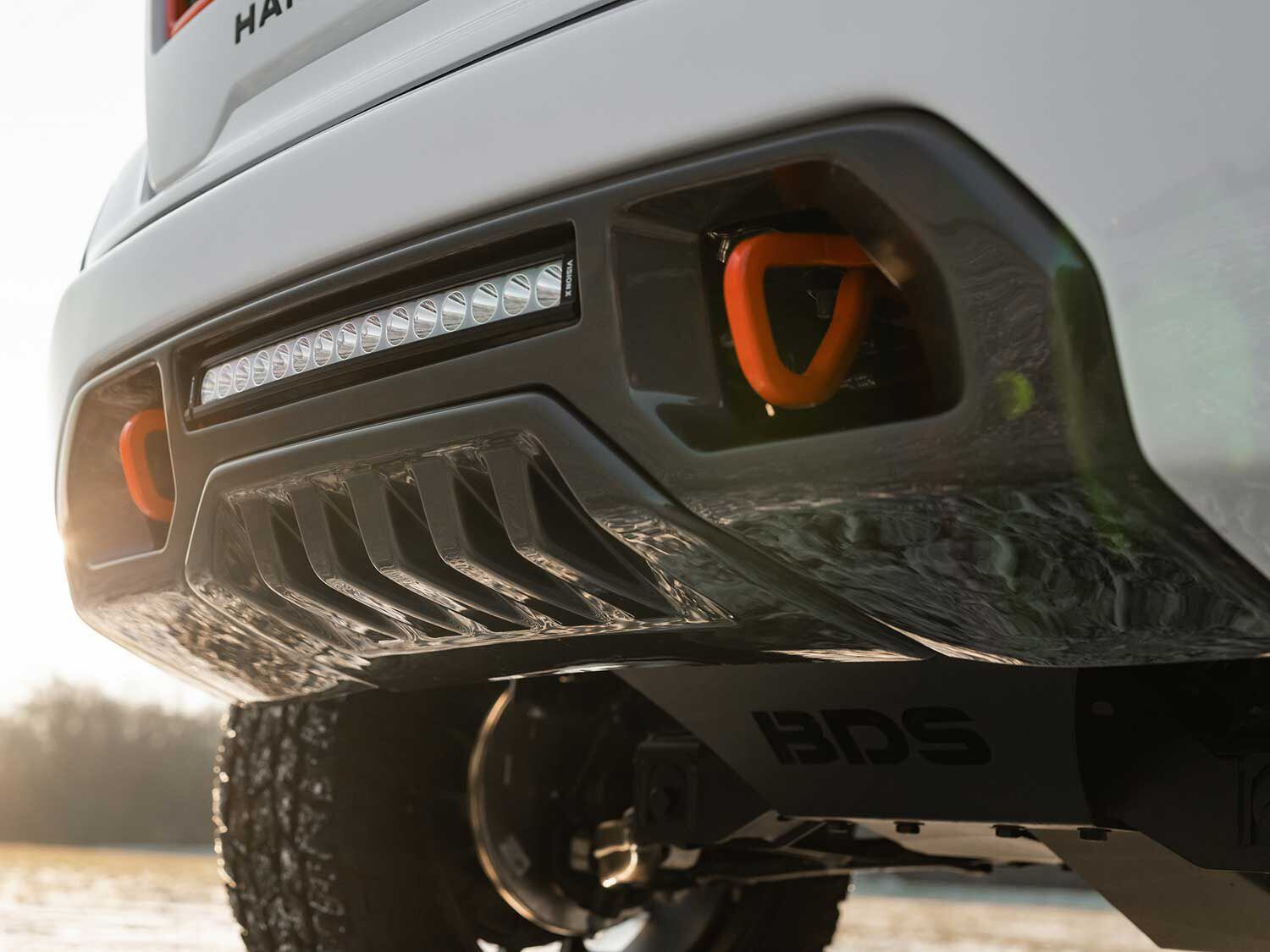 Like last year's Ford-licensed model, the GMC also gets a BDS lift kit, high-performance Fox shocks, fender flares, and wheels that riff on the Fat Boy's solid rims. (Courtesy Harley-Davidson/)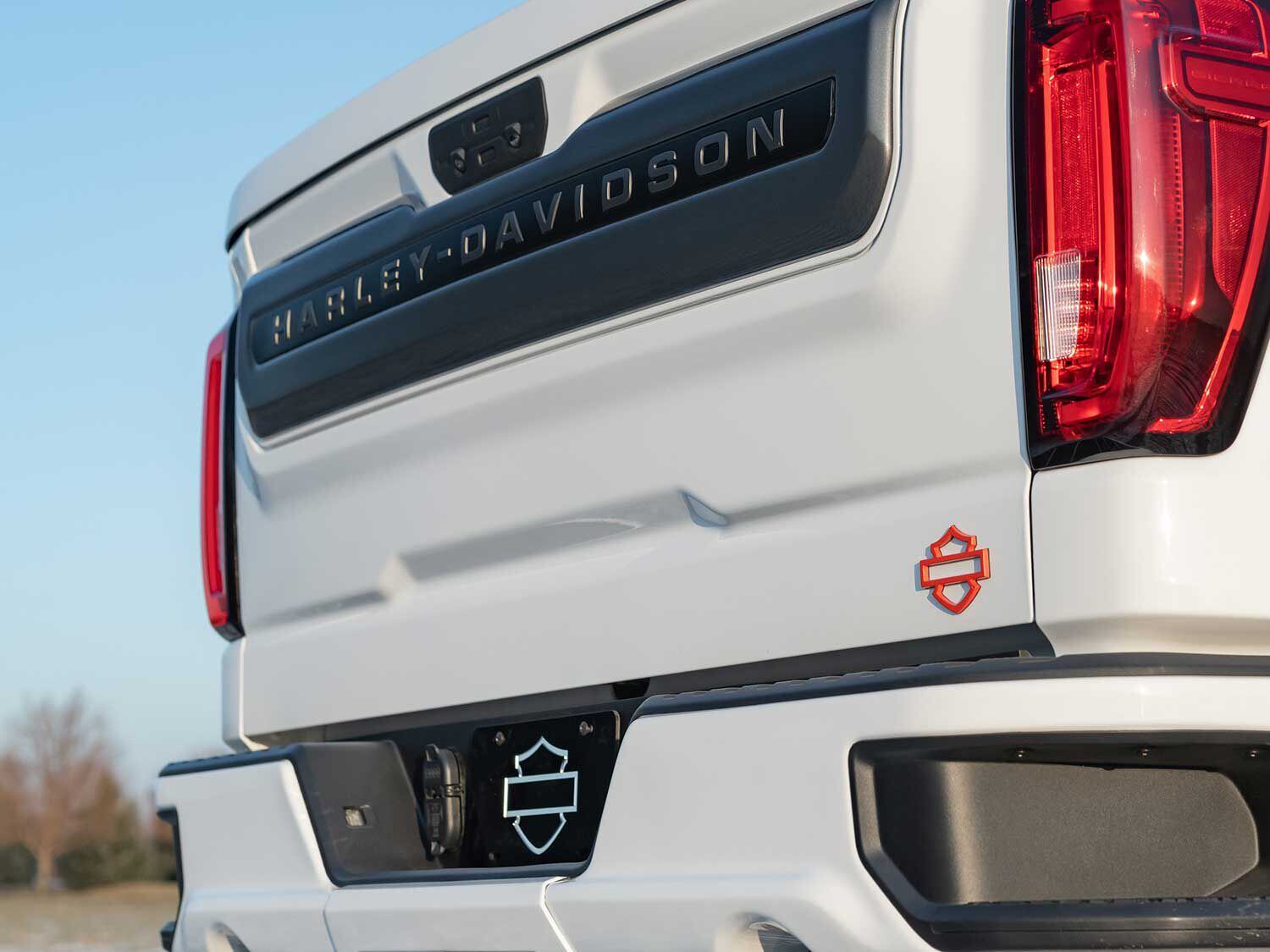 A custom-tuned exhaust is fitted with Harley-Davidson exclusive solid billet aluminum tips with orange accents, peeking out of custom exhaust ports. (Courtesy Harley-Davidson/)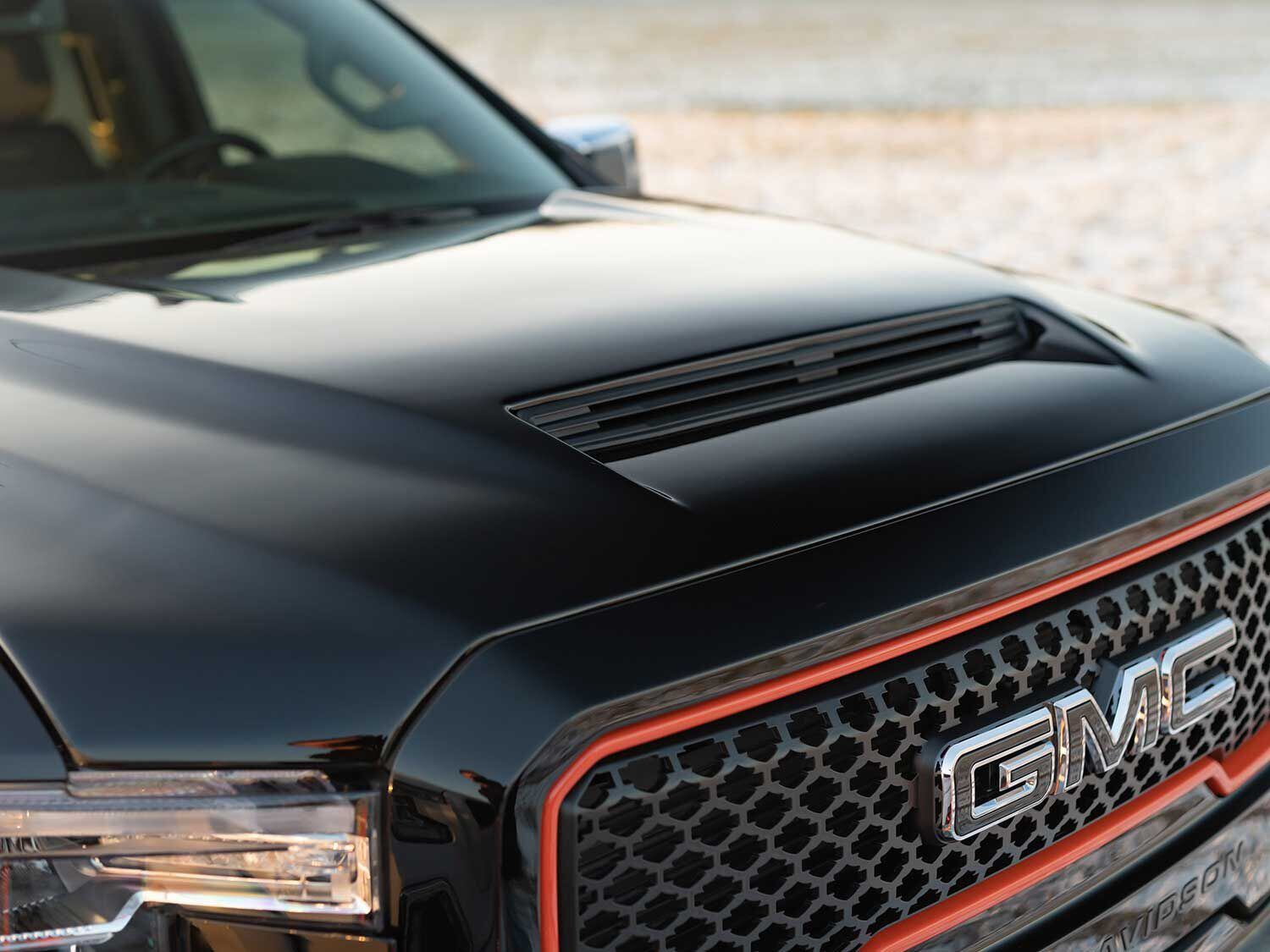 The color-matched injection-molded hood uses vent inserts for induction airflow. (Courtesy Harley-Davidson/)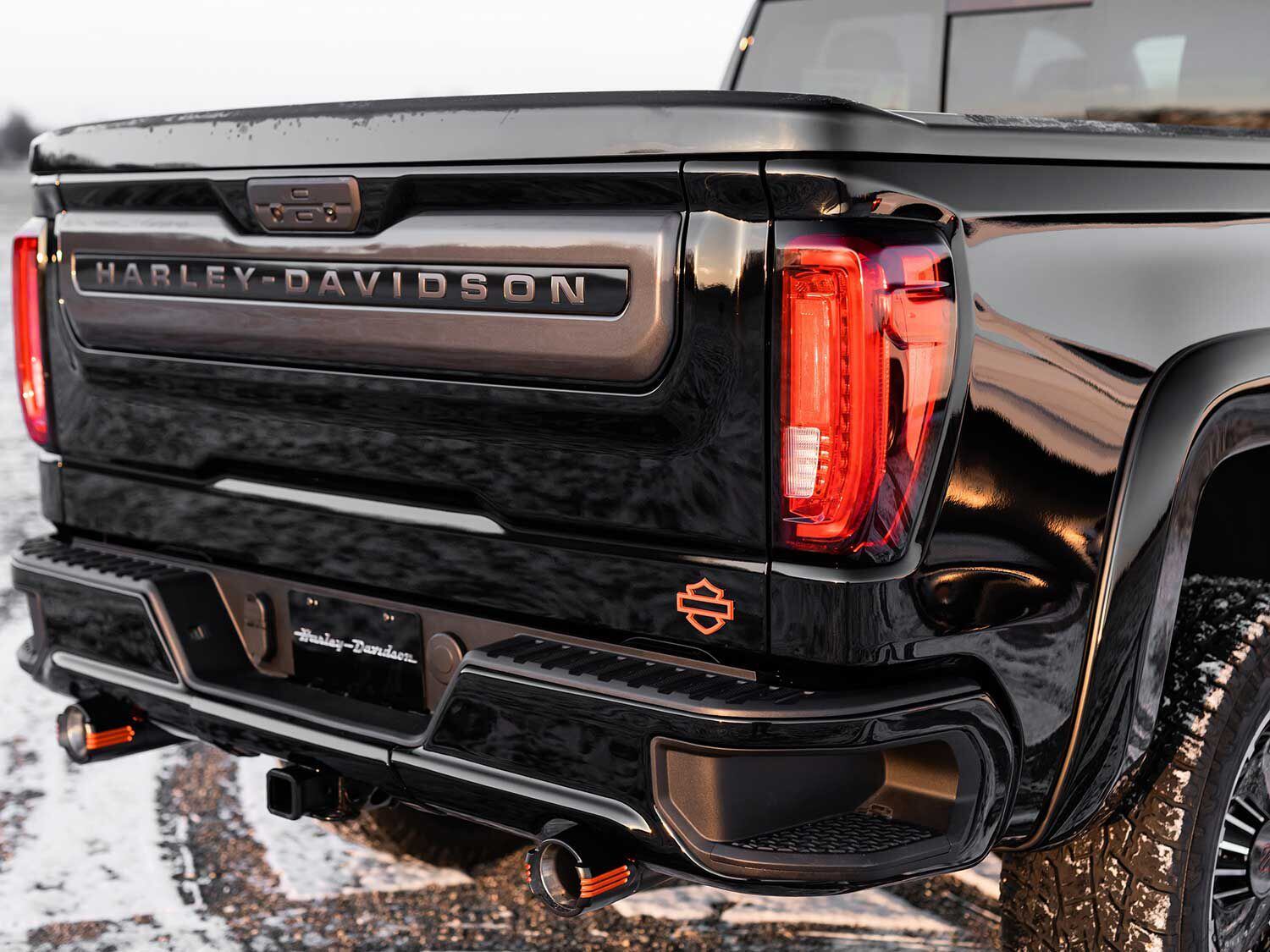 H-D lettering with a subdued logo. (Courtesy Harley-Davidson/)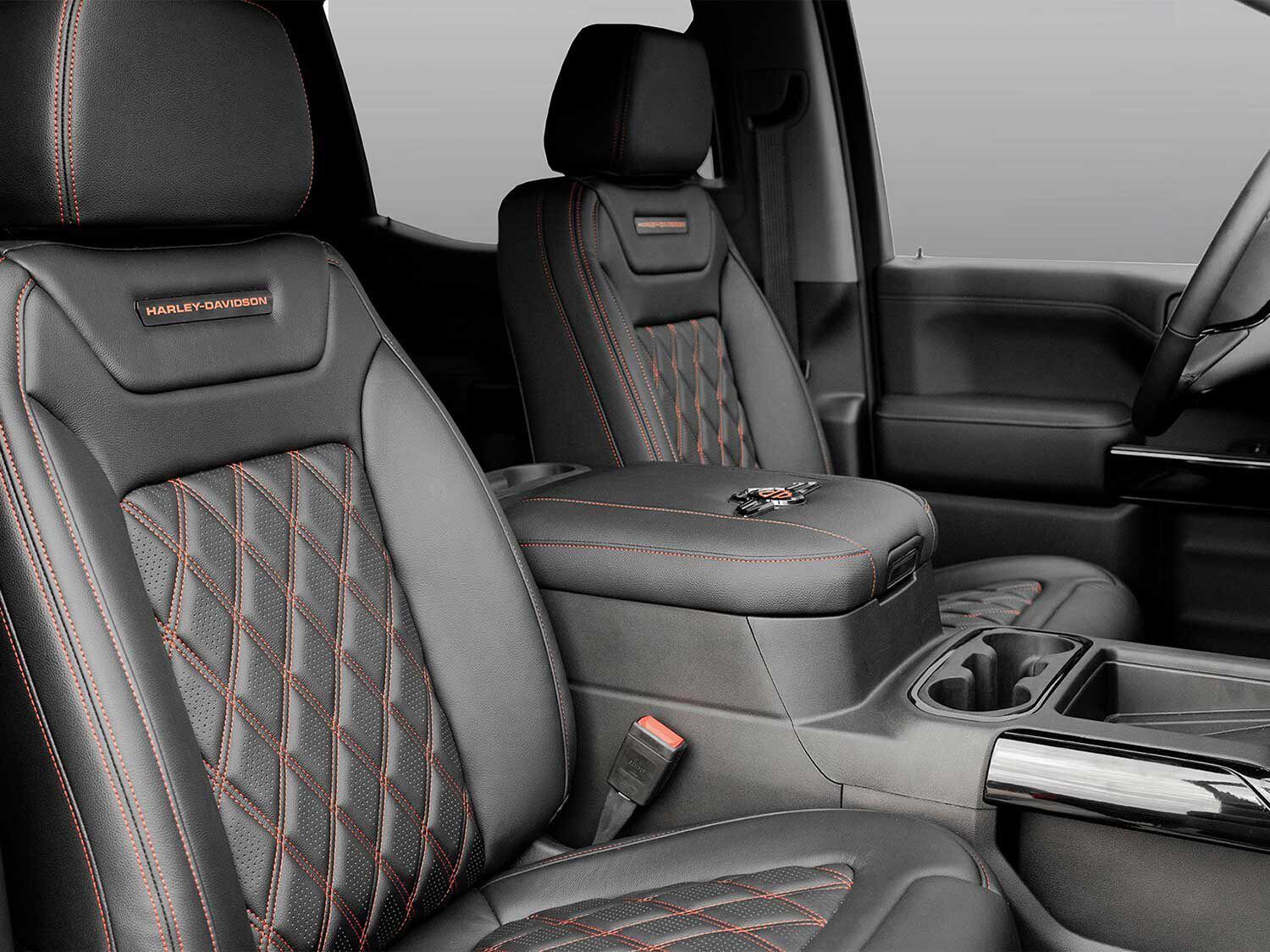 The interior sports two-tone diamond-stitched and perforated custom leather throughout, with a numbered Harley center console badge to cap it off. (Courtesy Harley-Davidson/)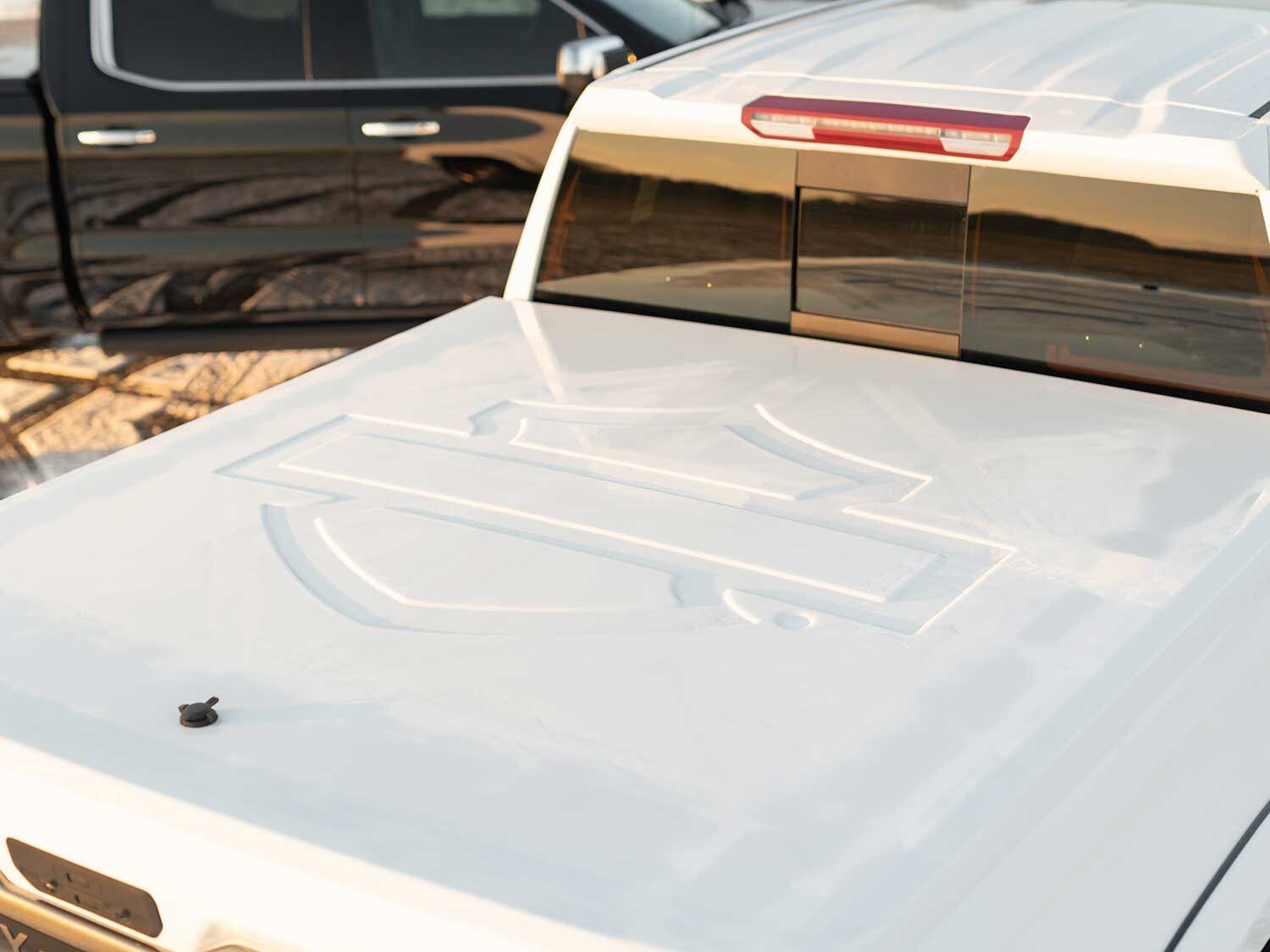 The color-matched and debossed Harley-Davidson tonneau cover can't be missed. (Courtesy Harley-Davidson/)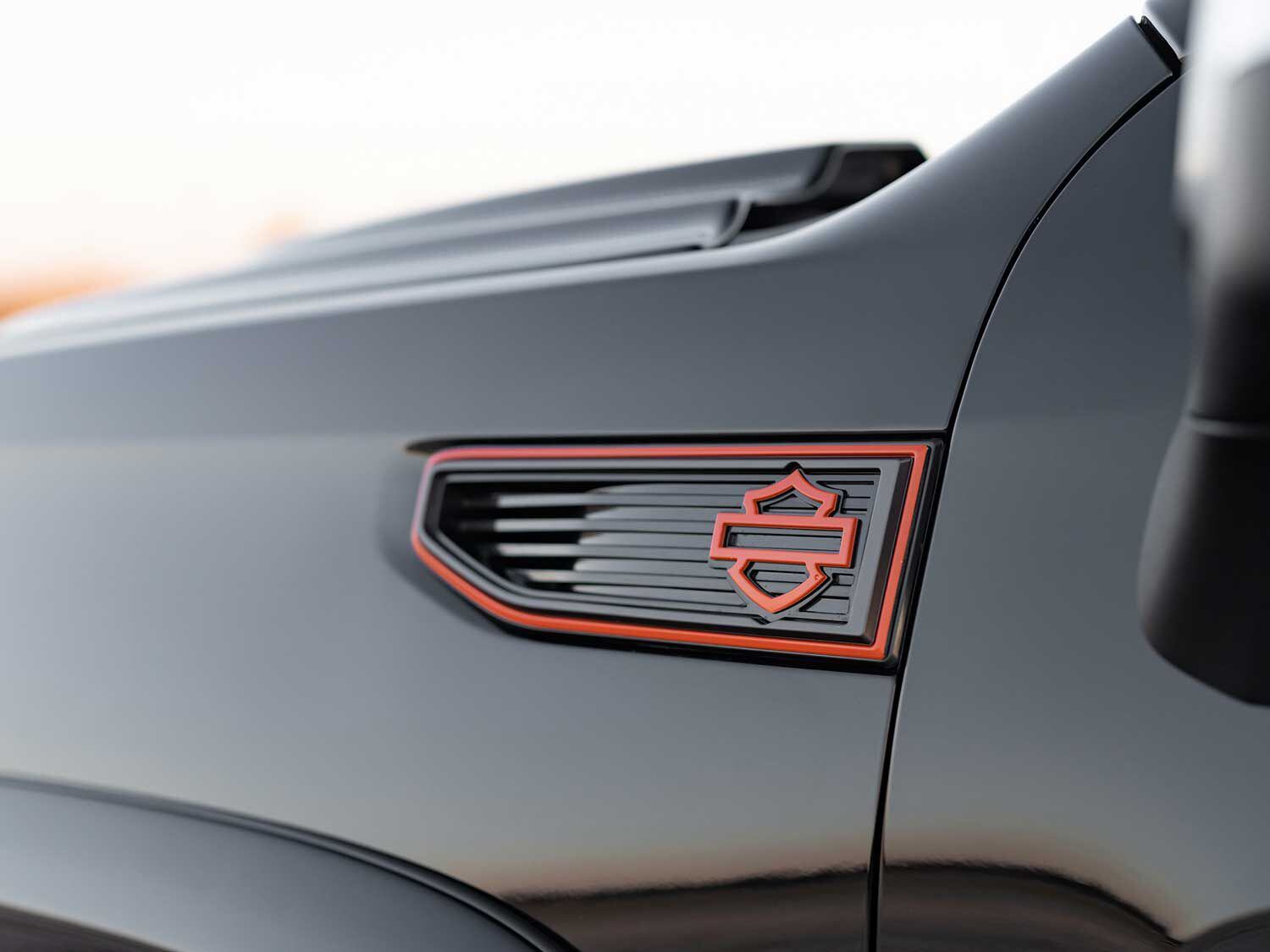 Active air fender vents feature raised orange and dark finish perimeter accents. And that logo. (Courtesy Harley-Davidson/)